John Enderby Jackson was born in Hull in 1827, Myton Gate. His father was a tallow chandler and soap manufacturer and as the business had been run by several generations, right back to south sea whalers on his mother's side, the Enderby's, he assumed that his son would follow in his footsteps. John went to Hull Grammar School and helped out when he could. The business supplied wax and tallow candles to one of the four theatres in Hull at the time, the Theatre Royal. Whilst lighting, adjusting and snuffing the candles in the theatre John was beguiled by the music.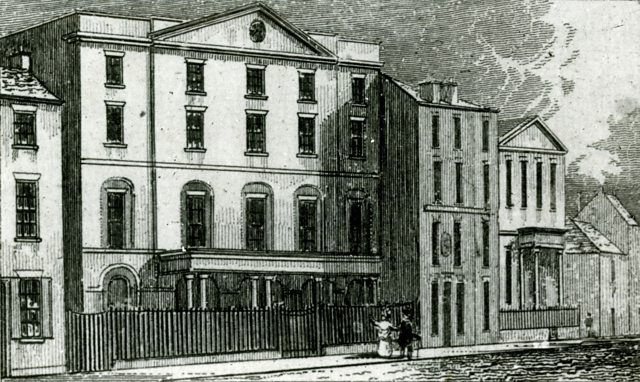 Photo credit to Hull History Centre, via the bbc.co.uk
The Theatre Royal opened in 1810 midway down Humber Street, half way between Queens Street and Humber Dock, about where 'Fruit' is now, but I'm not sure what side of the street it was on. It must have been quite a prestigious theatre as it was granted a Royal Patent by Act of Parliament. This meant that top London stars would be attracted to Hull. This is the reason for the title Theatre Royal. It burned down in 1859 and was rebuilt on the same site in 1865, but again burned down in 1869. A new theatre was built with the same name, on Anlaby Road, the same year.
His father forbade him from learning an instrument at first so John learned to read music and study composition etc. He remembered Paganini playing at the Theatre Royal in 1835 and was further resolved to take up music. he would talk to the musicians in the orchestra pit as he carried out his chores. By the time he was 12 he was quite an accomplished player and by 15 he could read, arrange and compose small pieces for orchestras. He was also making contacts all mover the country.
John Enderby Jackson.
The coming of the railways proved to be the conduit for the growth of brass band competition and their growth. In 1847 the Leeds Temperance brass band won work for the season at Scarborough and after a visit to London and conversations with other John went round the railway companies asking for concessions for brass bands moving on the railways, which he managed to obtain. He became focused on bring music to the working people, and it was this he was honoured by Queen Victoria after he had organised the music for the visit of Her Majesty to Hull in 1853. In that year the first brass band competition was run in Manchester but in 1855 John organised one at the Zoological Gardens in Hull and 21 bands competed. In the next four years he arranged competitions in nearly twenty cities in England and also composed various test pieces to be played at them.
The Davy Paxman Standard Iron works Band, 1890's
About this time he had married Elizabeth and they were living in Prospect Street, Hull. Next came the first National Brass Band Competition that he helped organise at Crystal Palace. He also assembled 12 teams of hand bell ringers to compete against each other to. On the first day 72 bands took part and on the second 98! John's fame spread from Yorkshire and Lancashire to the Midlands and bands were formed in many factories and mines. Having conquered Britain he traveled to Australia with his family on a three year tour. he was actually offered the job of managing the Melbourne Opera House but ill health brought him home. On return the family moved to Scarborough and their son, Edmund, was born. Unfortunately he was killed in WWI in 1918. After a rest after his return from the southern hemisphere John set about managing tours of plays and concert parties around the country. His 8 year old daughter acted as pianist on the concert party tour. He then composed music for his talented daughter, traveled abroad promoting music for workers and took up painting. He never failed to keep busy and died aged 76 in April 1903. He lies buried at the Manor Road Cemetery in Scarborough.
The Hull Postmans Band 1910.
There can't be many people who have not heard of the Grimethorpe Colliery, Black Dyke Mills or the Brighouse and Rastrick Brass Bands that have been famous throughout the land. Despite the loss of many colliery and works bands over the last few decades, brass bands are a live and well and still extremely competitive with leagues and promotion and many competitions. It is still music for the people played by the people as can be seen in the photos above as I was struck by the mix of old and young in the bands. The Salvation Army Bands are always welcome to raise a tune and smarten your step. A name of another unsung hero from Hull that has made the world a little more cheerful for all of us. Remember him when you listen to the music of brass as we approach Christmas.